Updated April 22, 2022
This is a sweet guide to helping you create the best non-refrigerated meals for camping you can 🙂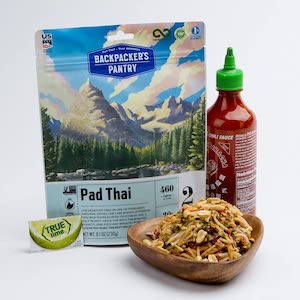 In this resource below we'll cover:
Food planning for camping // why it's important
Camping cookware or items you might need
Best non-refrigerated meals for camping
Lots more
So if you want to focus less on meals and more on camping, you'll love this guide.
Let's get started!
Food Done Right!
One of my favorite parts of camping is preparing meals. Part of that is because I love to cook, but also because it is a fun challenge to figure out your meals with limited to no cookware. Or you can take it to another level, and have the most epic cook setup ever at your campsite. Whichever you choose, it's guaranteed a great time, as long as you prepare properly. I'm sure we all know that there's nothing worse than being hungry on a camping trip.
Food planning & why non-refrigerated meals for camping are important?
Here is what I do when I start planning for my camping trip. First and most important, I make a point to acknowledge the reason why I am going camping. Is it just to camp and hang out for a few days, or are we doing extensive activities that involve burning serious calories. If you're doing the latter, you definitely want to have a meal plan prepared so you don't get gassed out.
The second part is to consider how many people are planning to come along for the adventure. There's nothing worse than making a batch of scrambled eggs in the morning, only to realize half your camp crew didn't bring any breakfast food and are painfully (and maybe angrily) watching you eat your warm deliciously prepared meals. Think about the group! Don't be that guy who has a gourmet dinner when your buddy is eating a cliff bar for every meal.
The other biggest factor to consider when planning is how big you want to go. Do you want to go all out with fancy warm dinners with a camp stove, or are you trying to keep it simple, boil some water, and pour it into your cup of noodles? Decide what makes the most sense for the trip you're going on. If you have lots of hiking or backpacking to do, you're obviously not going to be carrying your cast iron skillet all over the mountains in your backpack. But if you're pulling the Subaru up to your campsite, and exploring via vehicle most of the day, then I say go for it! But it's totally your choice.
In this article, we are going to explore some of the best non-refrigerated meals. With some of the most simple lightweight tools on the market.
Camping cookware or items you may need
It's easy to forget cookware that you have such easy access to in your kitchen at home. So I like to keep a Tupperware or bin of my favorite items handy with all my camping gear. Here is my essential list for on-site cooking!
Bonus Item: Fillet Knife! Pack a fillet knife in your camping gear. There is nothing more simple, minimal, and nutritious than fresh fish when camping. Explore more fish recipes here.

So now that we have all the tools to make the food, let's talk about some great ideas that include non-refrigerated ingredients.

Who said breakfast?
Okay, okay, posting that image above was probably cruel. Obviously, that is not a meal that should be in this article. Actually, breakfast is one of the toughest meals in my opinion for camping. Sure enough, you're usually waking up (possibly in the dark still), usually cold, tired, maybe grumpy a bit because your tent partner was snoring all night, and the last thing you want to do is build a fire so you can boil some water. It sucks, and no one wants to be the one to make breakfast. So here we go, from easiest to hardest.
Baked Goods & Gluten-Free Banana Muffins, Non-refrigerated and Delicious
You can't go wrong with bringing snacks like muffins, danishes, or bagels. The best part of these types of foods is they require zero cooking time when you're out camping. So if you know you're going to be freezing your butt off, or not in the mood to cook in the morning, this is the safest bet!
My favorite healthier option for this type of food is gluten-free banana muffins (like this premixed box). I like to prep them ahead of time (bake the night before), and they have that freshly made smell, but will last you quite a few days. I personally make mine from scratch with this recipe below, in mini muffin tins, and they are the best thing on the planet!
Ingredients:
6 ripe bananas
2 eggs
⅓ cup of honey
1 ½ tsp baking powder
½ tsp baking soda
2 ½ cups brown rice flour
½ tsp cinnamon
¼ tsp nutmeg
½ tsp sea salt
1 tsp Vanilla extract
½ cup coconut oil
How to:
Coat the pan (or muffin tin) with coconut oil and preheat the oven to 350 degrees.
In a medium bowl, mix together all the dry ingredients (baking powder, baking soda, brown rice flour, cinnamon, nutmeg, sea salt).
In another bowl mash up your bananas and mix with eggs, honey, vanilla, and coconut oil.
Mix the bananas with the dry ingredients
Pour batter into the pan
Bake to desired texture (I like to check every ten minutes).
Warm Oatmeal!!
This involves stepping your game up a bit on the effort level. Meaning you need some equipment. But when I say you need equipment, you literally need a pot to boil water (or even the Jetboil stove I mentioned above), and a bowl to eat your oatmeal out of. Pretty simple, and you get a warm meal in the morning! There are some great options for oatmeal, depending on the health route you want to take. If you're going with quick, easy, and want some sugar in the morning, you can't go wrong with Quaker's Instant Oatmeal. If you don't want to use a bowl, you can actually bring these oatmeal cups, and pour your hot water right into it. Super easy, and honestly really delicious.
However, if you're like me and try to stay away from processed sugars, and gluten, this is a really great option! Bakery on Main's instant oatmeal is gluten-free and doesn't include any sweeteners. In fact, the only ingredients are whole grain oats, flax meal, chia seeds, quinoa, and amaranth. Prepare your oatmeal, add a few drops of honey (or more depending on your sweet tooth), add some chopped strawberries or bananas, and you have yourself an amazingly healthy warm camp breakfast!
Don't skip lunch!
I repeat, don't skip lunch. Especially if you're out in the sun climbing some gnarly routes, or even if you're out swimming at the lake. Lunch can easily be forgotten, but it is really important to keep your energy up, and your body fueled. So while you're on the go, I like to use my lunchtime to have snacks every few hours, rather than a planned meal. This makes it easier so you don't have to go back to your campsite. Check out my favorite snacks below!
Best non-refrigerated Snack ideas
Fruits and veggies
Bring a couple of bananas, some apples, some carrots, whatever you enjoy the most.
Jerky
I'm a jerky fan! I absolutely love it. It's an easy way to get some protein from meat, without worrying about keeping it refrigerated. Plus there are so many good flavors to choose from, which can be a great instant quench for hunger. This is a great option from Country Archer, which is gluten-free!
Trail Mix
There are many great options out there, but this Power Up High Energy Mix is a great choice when you're camping and burning a lot of calories.
Granola Bars
Bars are by far the easiest meal to take while camping. They're super compact and have so many great options to choose from. A favorite gluten-free option is anything from Kind Bars, like this variety pack. I also am a major fan of Clif Bars like this variety pack. Though they aren't gluten-free, the main source of sweetener is Brown Rice Syrup which is a much healthier alternative to corn syrup (yuck).
Non-refrigerated Gourmet Dinner While Camping!?
Again, dinner is going to be as easy or complicated as you want to make it. But one thing for sure, I always recommend a warm dinner when camping. It helps you sleep better, you feel more satisfied, and often it keeps you extra warm (on those chilly camping nights).
Instant Meals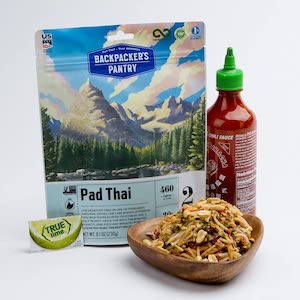 Sure you can bring your sad cup of noodles to the campfire, but there are lots of other great instant meals! One of the best I have come across is Backpacker's Pantry like this Pad Thai meal. It is gluten-free, non-GMO, vegetarian, and vegan! These actually provide a great source of protein (20g) and are a great alternative option when you don't want to get out the cookware!
Vegetarian Pasta & Bread
This involves a few steps but ensures a fully satisfied belly at the end of the night. The best thing is everything in this meal is non-refrigerated. Grab a jar of your favorite pasta sauce, a box of your favorite noodles (I like these brown rice flour noodles that are gluten-free), some veggies to add to your sauce, and you are set! To top it off, you could add a baguette to the fire, and serve warm bread with your pasta. This is a great meal for a large group, and everyone will go to bed happy!
Vegetarian Chili & Bread
A chili is a great option when you want something hot, but don't want to do much cooking (but don't forget a can opener). Literally, all the ingredients can be dumped into one pot. Grab your favorite jar of pasta sauce, a can of black beans, a can of red kidney beans, and some veggies (like red bell peppers, or jalapenos if you want a kick), dump them all in a pot, and let them stew away! You can also include a warmed baguette with this meal!
Let's eat!
So there you have it. Those are my best go-to non-refrigerated meals for camping. There are lots of ideas there, but if you have an even better idea, please share it with us! I love learning about new recipes, especially with the challenge of cooking on-site during camping.
Happy cooking & camping!
Rach
—
Questions, comments, feedback–we LOVE IT ALL!! Please feel free to drop us a line in the comments below.
If you enjoyed this non-refrigerated meals for camping article please consider sharing it on social 🙂
Additional: